Gaya Centre Hotel – Kota Kinabalu
Jalan Tun Fuad Stephen, Pusat Bandar
Hotel Overview:
Gaya Centre Hotel is a three star hotel located near the beautiful water front of Kota Kinabalu with some of the most amazing views of the pristine South China Sea, the outlining islands of Gaya, the city and the hills.
Serving 260 rooms and suites to provide the comfort and one of a kind accommodation.
About Gaya Centre Hotel
The Gaya Centre Hotel is one of the city's most conveniently located hotels, lying adjacent to Kota Kinabalu's two most popular shopping malls, namely Suria Sabah and Wisma Merdaha, and just 2 minutes away from all the major banks and other commercial and business complexes.  The Kota Kinabalu International Airport is a short 20 minutes travel away.
Book your stay at Gaya Centre Hotel for a great experience here in Kota Kinabalu.  A hotel that is affordable, conveniently located, offers spectacular views of the Hills and the South China Sea, and easy access to many nearby attractions.
Rooms at Gaya Centre Hotel
The Gaya Centre Hotel boasts 260 well furnished rooms, designed to provide comfortable accommodation to the guests. These rooms include Standard Rooms, with 2 single beds and a view of the city or the sea, the Superior Rooms with either a queen-sized bed or 2 single beds with city or hill vies, quite similar to the Deluxe Rooms. The Studio Suites have 2 queen-sized beds, and are quite larger than the regular-sized guest rooms with views of the city, sea or the islands. The Panorama Rooms are the premier rooms of the hotel offering breath-taking views from the 13th level of the hotel, with either a king-sized bed or a queen-sized bed. The Junior – Executive – Royal Suites are located on the top floor of the hotel and offer the utmost in affordable luxury, with king-sized beds, bathtub, separate showers, and designer toiletries. The prices of the rooms per night range from USD 40- USD 80, depending on the kind of rooms chosen by the guests.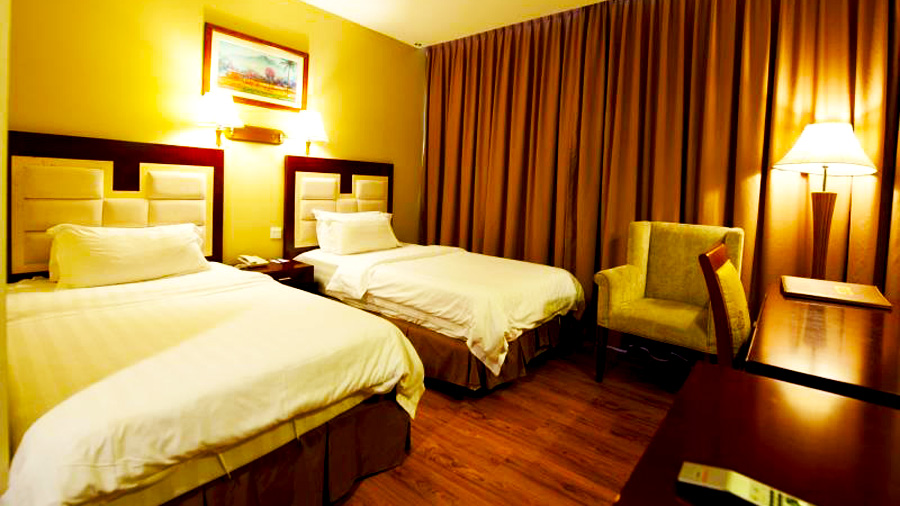 Gaya Centre Hotel Amenities

The Gaya Centre Hotel provides all the essential amenities keeping in mind the comfort and satisfaction of the guests. These basic amenities include comfortable bedding, a well-designed working desk and an office chair, complimentary internet access in all rooms, a 32" LCD TV with satellite channels, tea and coffee making facilities, a hairdryer, and in-room personal safe, a collection of international newspapers, an AC, an iron and an ironing board.
More Middle Class and City Hotels here: